Article of the Month
This press release was written by the company which issued it. Southwestregulators.com and I have not verified and do not warrant claims represented therein. Entered into Tech Talk by: GhostBushbaby on 07/03/09.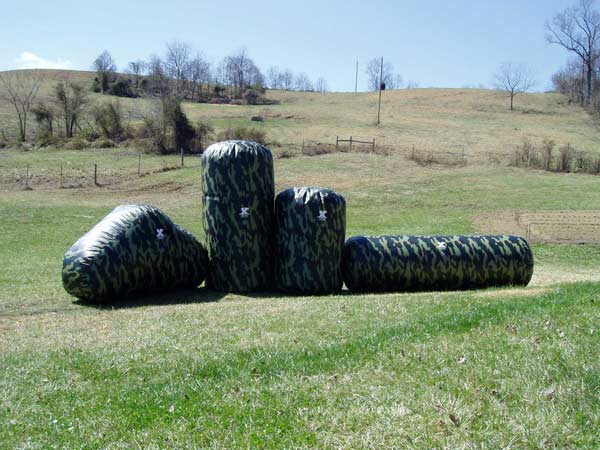 ULTIMATE AIRBALL LAUNCHES ULTICAMO
Ultimate Airball® launches UltiCAMO™ pattern bunkers at Oklahoma D-Day.
Brimstone Enterprises, Inc. and Ultimate Airball® of Oak Hill, Ohio, will introduce American-Made inflatable bunkers manufactured in UltiCAMO™ camouflage patterns at the 2009 Oklahoma D-Day event next week. Designed for use as added cover and lane-fillers on woodsball and scenario fields, UltiCAMO™ bunkers can be used in areas of sparse trees and natural terrain, enabling players to use the bunkers to stay "alive and shooting" longer to add to their enjoyment.
Oklahoma D-Day promoter, Dewayne Convirs, said, "I think it's great that Brimstone is making camo Ultimate Airball® products for recreational fields and players. Recball has always been the core of the business, and I appreciate companies that are paying attention to our roots and to where we all came from". These patterned Ultimate Airball™ bunkers will add cover to the areas between the forest perimeter and the Colleville Church on the epic 2009 Oklahoma D-Day fields, enabling more players to reach and occupy the incredible, full-size 2-story church.
Made in woodland-style green camo patterns and earth-tone colors, these camouflaged bunkers blend into woodsball scenes for a natural appearance. (Also available in distinctive Red, White and Blue Patriot Camo™).
The world's most durable Ultimate Airball® inflatable Paintball and AirSoft bunkers can be factory ordered direct from Brimstone Enterprises, Inc, and standard speedball field models are IN STOCK for IMMEDIATE SHIPMENT from KEE Action Sports: 1.800.724.6822
www.KeeActionSports.com
All rights reserved. Brimstone Enterprises, Inc. 514.242.0545
Ultimate AirBall ®
www.UltimateAirball.com
"The toughest air bunkers ever made"
PROUDLY MADE RIGHT in the USA
United States Patent #7,223,185